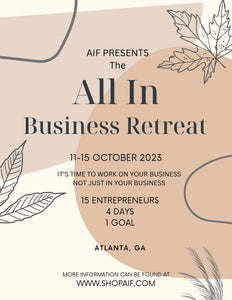 What do you do when you're in Atlanta for 5 days?!?

You hold a business retreat! The "All In" Business Treat is a 4 day 4 night catalyst to launch and/or expand businesses. There are only 15 spots available. We will work on our businesses from Thursday to Sunday. Our Meet and Greet will be held Wednesday night. Food and lodging is provided for the entire stay.

We will cover everything from website audits, product development, business plan Implementation, and more.

There will be surprise speakers to pop in. 

The address will be given the week of the retreat.

Payment Plans Are Available
This Event is NON REFUNDABLE.

All payments are due by 09/01/2023
For those that would like one on one coaching before, during and/or after the event. I have created an option for you.